Some home aesthetics will never go out of style, and will remain classic. 
Farmhouse, whether in a more contemporary or traditional form, will be forever timeless. 
When it comes to creating a cozy country home or envisioning a cottage aesthetic, this is one style that will always adapt with the times. 
Recent years have seen updates to this trend, as it spread from rural areas into suburbs and cities — absorbing other design styles into its homey and welcoming feel. From the recent modern farmhouse decor that combines white barn-inspired houses with galvanized steel accents, black trim, and rustic wood details, to elegant French country homes that embrace the luxurious styling and organic details. 
The farmhouse aesthetic is no longer flying under the radar.
And we're here to show you that this is a trend to stay — for everyone. 
Farmhouse is a lot more than a fireclay farm sink…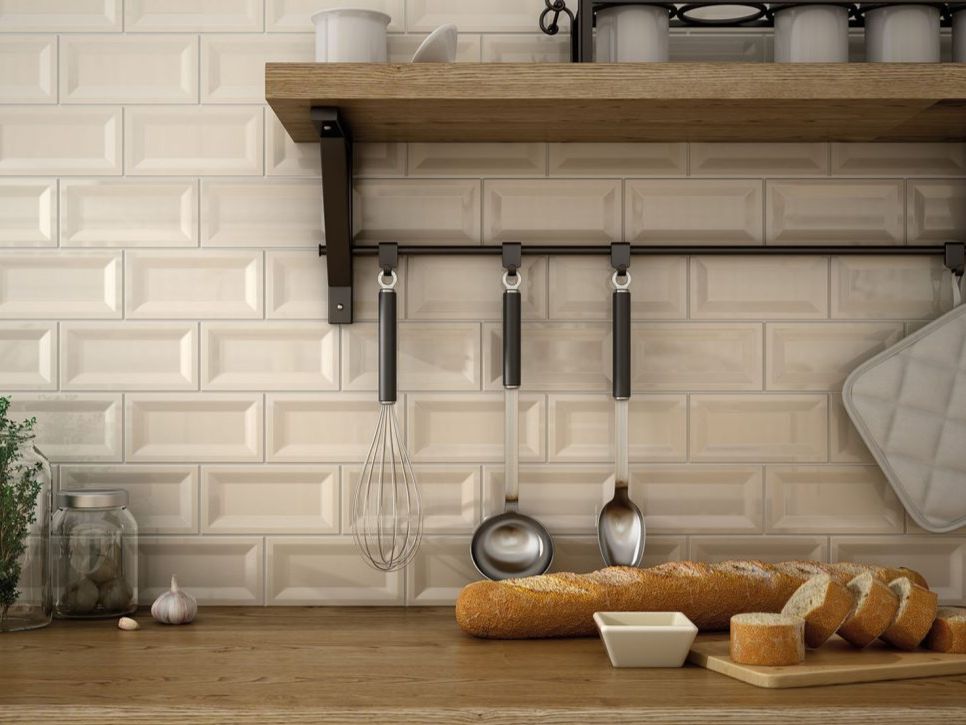 There are several different tile options to help style your farmhouse interior to create your own version in your own home.  Although there are many different design elements that can add to a country-inspired home, the kitchen is usually the first place that comes to mind. 
Natural elements keep the true heart of a farmhouse or country home, and can be incorporated with other classic, sophisticated and even contemporary tiles to elevate your backsplash. 
Combined with floating shelves and wood tone cabinetry to keep the kitchen design natural or adding a pop of colour to your cabinetry… there is something for everyone. 
DIY SHIPLAP… OR IS IT?
Thanks to Chip & Joanna Gaines and their Magnolia Farms Fixer Upper craze, shiplap walls have popularized and extended to kitchens, living rooms and bathrooms. 
This rustic design element was used primarily as siding for barns and other rustic outbuildings, and was frequently used on turn of the century farmhouse exteriors as well. Many renovated houses incorporated it into the design, restoring wooden boards or re-purposing them into other rooms in the house. Whitewashed shiplap has become a trending wall treatment that extends to floors & exteriors. Thanks to wood-look porcelain planks, this look is easier to achieve than ever if you want to recreate this HGTV-approved look at home!  Our wood-look porcelains can be used on floors or walls, in various patterns to create the ultimate farmhouse look. 
When in doubt, add some glamour, pattern and pizzazz. 
Classic farmhouse design pairs beautifully with marble mosaics, or marble-look mosaics.
Additionally, airy white and splashes of blue have cemented themselves as the traditional go-to colour palette for farmhouse interior design. It's not hard to see why when you factor in a white vanity with a porcelain vessel sink and hardware to match. 
There are several ways to style and create the farmhouse of your dreams —  you can go rustic meets industrial – blending both farm and urban design to create a more contemporary feel. We've seen it used to great effect in loft spaces as well as suburban homes. Darker elements like wrought iron, espresso stained woods and charcoal grout accenting white subway tiles create a contrast with classic shaker cabinets that make this style especially popular today!
If you're wanting bright and airy, consider the French Country aesthetic, or campagne style.  This style tends to steer towards whitewashed wood over a natural finish, keeping the overall look bright and airy. It has been increasingly popular in recent years, as it combines a homey and welcoming feel with a more upscale and elevated interior experience. 
Looking for the perfect tile to pair with your industrial farmhouse kitchen or elegant French country powder room? We're here to help! 
Reach out via website, email or social media and we can help you find the perfect tile to style your farmhouse (or inspired) home or to take your rustic country retreat to the next level!
Reposted with permission from Euro Tile