House Flipping – Tile 101
We're starting to see a shift in the real estate market due to COVID-19, it's true. Now is a great time to look for emerging markets and discover where city-dwellers are moving now that they can telecommute. With work from home becoming a potential full-time option for many, that opens up housing markets in areas that may have previously not been considered "commuter-friendly". It has never been a better time to start thinking about how to capture those potential buyers.
There are key elements that home buyers will notice — does it feel turnkey and ready to move in? Is the first thing that they see a dated interior or items they'll need to fix?
Let's look at some of the best cost to value improvements you can make — and some of the best tiles to help achieve these goals! 
According to a Canadian Real Estate Association report, homeowners saw an 80% recoup rate on their investment when they did a minor remodel on their kitchen before putting their house on the market.
The kitchen offered the highest return for interior upgrades — meaning that it should absolutely be first priority on your house flipping checklist!
Opting for a major remodel and redoing the entire kitchen — cabinets, appliances, tile… it's going to eat way too much into your profits, however, there are some much more budget friendly upgrades you can make to improve your flip house kitchen. 
A quick coat of paint to refresh the walls, and possibly the cabinets, will keep your budget in check and immediately make the kitchen feel new!
If you're looking to yield a higher return, consider using the kitchen backsplash as a focal point for potential buyers — this works especially well in an open concept home.  
Flooring Materials That Are Worth The Investment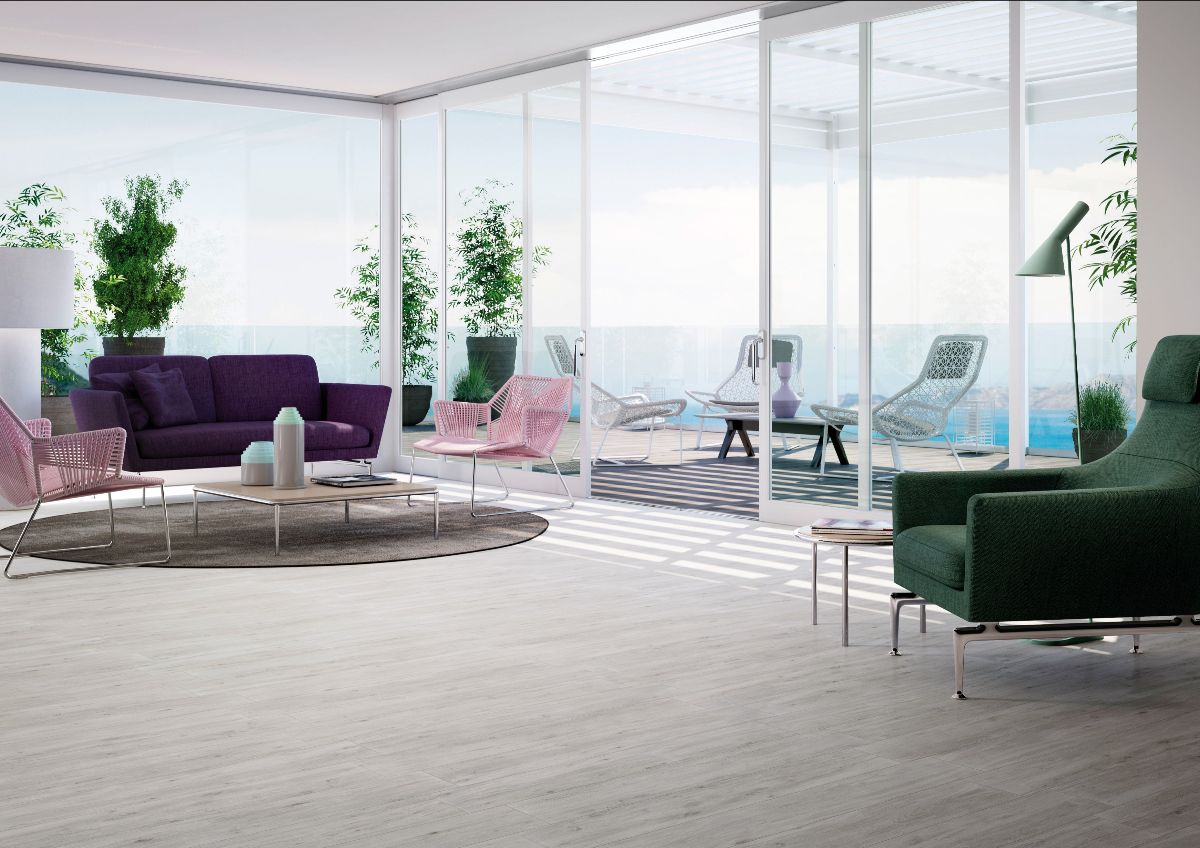 One of the best ways you can give a flipped house a fresh new feel is by redoing the floors. What home-buyer isn't lured by the promise of new hardwood flooring? … A big downside to this upgrade is the price tag!
But wait!  No surprise here, we have a solution for you… Wood-look porcelain tile. This option offers the ability to mimic hardwood flooring to an impressive degree, while giving you an incredibly durable flooring material that is slip-resistant and not susceptible to water damage (tile wins again). 
Long wearing porcelain floor tiles are also a great option if you decide to flip a house into a long-term rental unit. Not only can you charge a competitive price for rent thanks to the upgrades, but you've eliminated the standard landlord's headache of having to rip out the flooring after it gets scratched or water damaged. 
Tile —  long-wearing, affordable and attractive… (*mic drop*).  
Pick A Focal Point
If your house flipping budget only has room for the bare minimum when it comes to upgrades, there's still one trade secret that can help boost interest in your home when it comes time for the Open House and the bidding wars you hope will follow — a key focal point.
A fireplace, accompanied by a stunning tiled surround will pull the living area together. You can  make a statement with a fireplace, no matter the budget. 
A Gardener's Wonderland 
Perhaps you're looking to install a patio that will entice them outdoors and put visions of sunny summer days and cozy nights entertaining at home. You can refinish the patio in style and within budget with our 2CM exterior porcelain tile pavers and its easy-to-install pedestal system. 
Whether it's a feature wall, a fireplace, a new backsplash or even a porcelain floor  — we have several options for all budgets and design styles.
When you're ready to flip, we're here to make the process as easy as possible!
Reposted with permission from Euro Tile